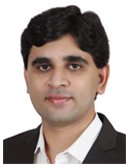 Dr. Nikhil Parmar
M.D. (Dermatology) 15 years of experience Cosmetic Treatments Dermatosurgeries Trichology
Dr. Nikhil Parmar holds a Post Graduation degree from the G.G. Hospital, Jamnagar Medical College. Dr. Nikhil is an experienced, dedicated and caring Dermatology specialist and skincare professional committed to providing and promoting advanced dermatology care, cosmetic treatment and skincare services to his patients. His commitment towards this endeavour is supported through his experience and compassionate professionalism, in addition to the use of efficacious, reliable and state-of-art skincare and cosmetic procedures.
QUALIFICATION
MBBS, 2004- M P Shah Medical College, Jamnagar, Gujarat
MD, 2007- G. G. Hospital, Jamnagar, Gujarat
Cosmetic treatment and dermato- surgical treatment training at Delhi.
MEMBERSHIPS
Member of Indian association of Dermatologist, Leprologist and Venereologist
Member of cosmetic society of India.
Member of Indian medical association.
Member of Dermatological association of Ahmedabad.
Member of Cosmetic Dermatology society of Ahmedabad.
WORK EXPERIENCE & ACADEMIC ACHIEVEMENTS
Worked as a specialist-cosmetic dermatologist at Manipal cure and care, Ahmedabad.
Worked as a Visiting Cosmetic Dermatologist at VLCC, Ahmedabad in 2009
Has won award and free paper prizes at state annual conferences
Has given CME lectures, television talks, news paper articles on various dermatological and cosmetic treatment subjects
Keeps himself updated with attending various conferences and lectures.
Member of Cosmetic Dermatology society of Ahmedabad.